MY FAV ' MJ
Being six feet and Four inches tall (obviously tallest in college) Many a times my friends will have words with me for not getting into basket ball team and even our college games teacher continuously pulled me for it till he got bugged up at last . Every time he comes to me, I gave some filthy reason to avoid being in the team. Even some times, I used to bury with in my gang of friends when I cross him since I know games are not my cup of Tea.

Only thing I do with respect to games is going to gym that too I am regularly irregular there too. (Because for every four months I will stop going to gym due to my semester exams and it will take another two more months to getting started from the scrap) .To be frank I do not know much about sports. If there is, some thing called sports quotient then for me SQ will be in negatives. I know nothing about Olympics .How then I got so engrossed by her?

I think during last Olympic season one night my finger ran across my TV remote control as usual .Suddenly my channel browsing was ceased at a particular news channel and just looked at that gal who is shown on the TV .Even thought she is dark she is very beautiful .She had that some thing extra .When I first saw her I am not aware of the fact that she is the great sprint star ,she had won so much honor etc..etc. Even then she has some thing attractive and she was able to keep my eyes glued to the TV screen ,that smile ,that particular magic smile I still remember .That did the mojo I think . Do you wanna know who she is - that is none other than my favorite Sprint star MARION JONES .

I cannot say that she is glamorous but she is attractive or I can say she is B-E - A -U - T - I - F - U - L !! That is the opt word I think. What made her so beautiful I don't know exactly at that period .Then after a long time when I saw her photo on newspaper and TV channels I found the beauty may be because of the two magic sharp tooths and the oval face cut what she has.

I think all of you would have experienced this atleast once in your life , Some times , some people(irrespective of gender) used to grab our attention even though we don't know who they are and Marion Jones is one of that kind .As we say " Tall ,Dark and Handsome " for men I think now we can alter it a bit and say "Tall , Dark and Beautiful " that will suite her exactly .

You may think why this guy writes about her now? Leaving all those times when she was so admired .Yesterday I saw the bad news about MJ in news. It said she was involved in some doping during Olympic. The saddest part of the tale is ,even her husband himself turned against her . So when I read that news I felt I should write some thing about her in my blog and so I did .By this blog I din't mean to say she din't do any mistake but if the doping charge against her proved to be false I will be very happy because it is very awful to see her with out that magical smile!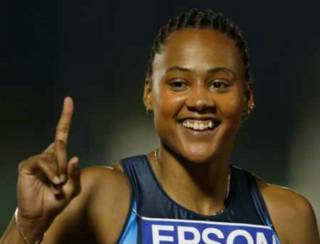 Isn't she cute????????? Don't you feel that extra some thing in her !!Guys no drooling plz.....